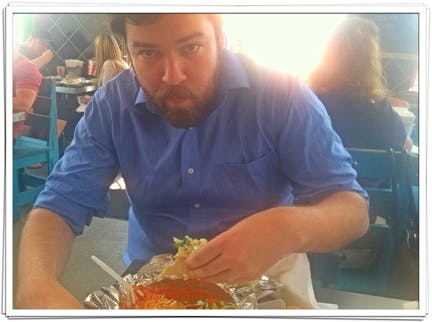 There are so many good to decent Northern Mexican food places around town you could stumble in just about anywhere and end up with a plate of Mexican food that people back east would rave about. I cannot tell you how many times I have been out to eat with New Yorkers or other back East friends that think they know what good Mexican food is, and where a good place to get it might be. When I visit business colleagues and friends in other cities I am seemingly always willingly led to another ultimately subpar Mexican, Tex-Mex, or generally Latin named restaurant. Luckily, for us here in Salt Lake, that is not the case.
Here in our little capital city we are blessed to count many amazing Mexican restaurants, some that I have already reviewed on this blog. From Frida Bistro, La Frontera, la Macerena, to Café Silvestre(awesome burritos!) here in Utah and especially in Salt Lake we really have a plethora of awesome Mexican restaurants to choose from. Oh and, Red Iguana? Check. We have that too; one of the most highly awarded Mexican restaurant in the country (I'm guessing, but it sure does seem like it right?). Now seemingly most people have heard of and been to most or at least one of the fine Mexican culinary institutions listed above but I am willing to bet hard dinero that I can name two others that most people have only been to one or neither of! These restaurants come to us lucky souls of Salt Lake in the fine tradition of a Mexican restaurant classic—the Taqueria!
The first Taqueria that you must seek out and try is the well regarded and often crowded Lone Star Taqueria in Midvale. The restaurant is located on 2265 South Fort Union BLVD in the South End of the Valley. It is a very small restaurant with counter service and a simple chalk board menu.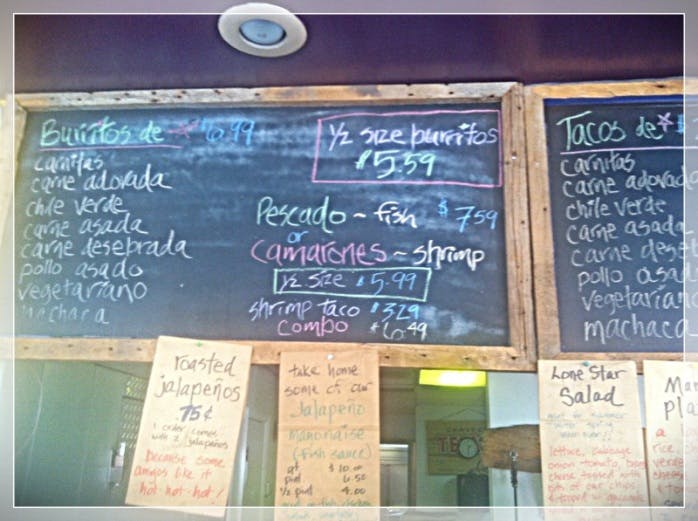 Featuring things like burritos, tacos. The especial de la casa at Lone Star is the tacos pescados, or fish tacos, and they are amazing: grilled mahe or other white fish and served with cabbage, onions and cilantro finely diced, a creamy jalapeno mayo sauce and a squeeze of fresh lime—delicious!
Another extremely high note hit by Lone Starr is the tortilla chips; something that I really focus on when judging any Mexican restaurant. At Lone Starr they do them the right way by using house made fresh corn tortillas and then frying the chips to just the right crispness  in fresh oil, leading to a stellar tasting chip- not to mention the salsa bar with 6 different salsas all of which I tried and were delicious! If I had to pick a favorite salsa it would have to be the hot fiery red sauce made with chili de arbol–hot, but so tasty! Another great thing about Lone Starr is that I have been there perhaps 25 times and have never had anything less than great food, everything from the carne asada burritos to the chicken tacos are sublime and should be sampled, the guacamole is always fresh and chunky; thick with just the right amount of spices and cilantro mixed in. Anyone who has not been to Lone Starr should make the trip- you will NOT be disappointed. If you are in the mood for a burrito just remember to come hungry as the Lone Starr burrito behemoths weigh in at a solid 5 pounds! The restaurant is open 6 days a week, Monday to Thursday from 11 am to 9 pm and on Saturday from 11 am to 10 pm. (3 Stars)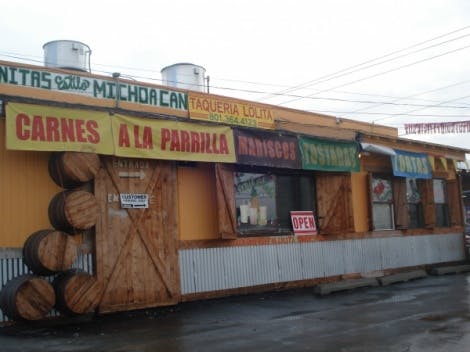 The second taqueria that must be discussed when bringing up and taqueria in Utah is quickly becoming a Salt Lake City staple for those in the know.  Taqueria Lolita, located at 909 South and 300 West in the heart of the city serves one amazing beef taco! In fact the restaurant was awarded best taco by Salt Lake magazine in 2010! The restaurant is adjacent to a muffler shop and some other run-down buildings, making it not the easiest place in the world to spot, but after you have found the ramshackle entrance on the south side of the building and seated yourself you are in for a treat. Taqueria Lolita offers up all the traditional northern Mexican fare with some real restaurant espeicials de la casa mixed in. One excellent example (ejemplo—they don't speak much English here), are the awesomely hot camarones el Diablo or shrimp in a fiery red chile sauce again made with the hot arbol chili and served with warm tortillas. This is really a hot dish (I'm talking face meltingly hot; make you want stop because you know it will hurt so much later but can't because it tastes so freaking good hot!), and if you do not like spicy (again, very) food then best to try something else like the carne adovada(a special) or the pasole—which is basically the most amazing chicken noodle soup that you will ever have.
The moles at Taqueria Lolita are pretty fantastic as well; the chicken in succulent, mahogany mole transports you back to Southern Mexico(assuming that you have been there). Another great thing to note about Taqueria Lolita is that it is open 7 days a week for dinner and 6 days for lunch; owner Jesus Sanchez is seemingly always standing close by somewhere in the restaurant to greet customers and to pass out the cold Bohemia cerveza, as well. Much obliged mi amigo!