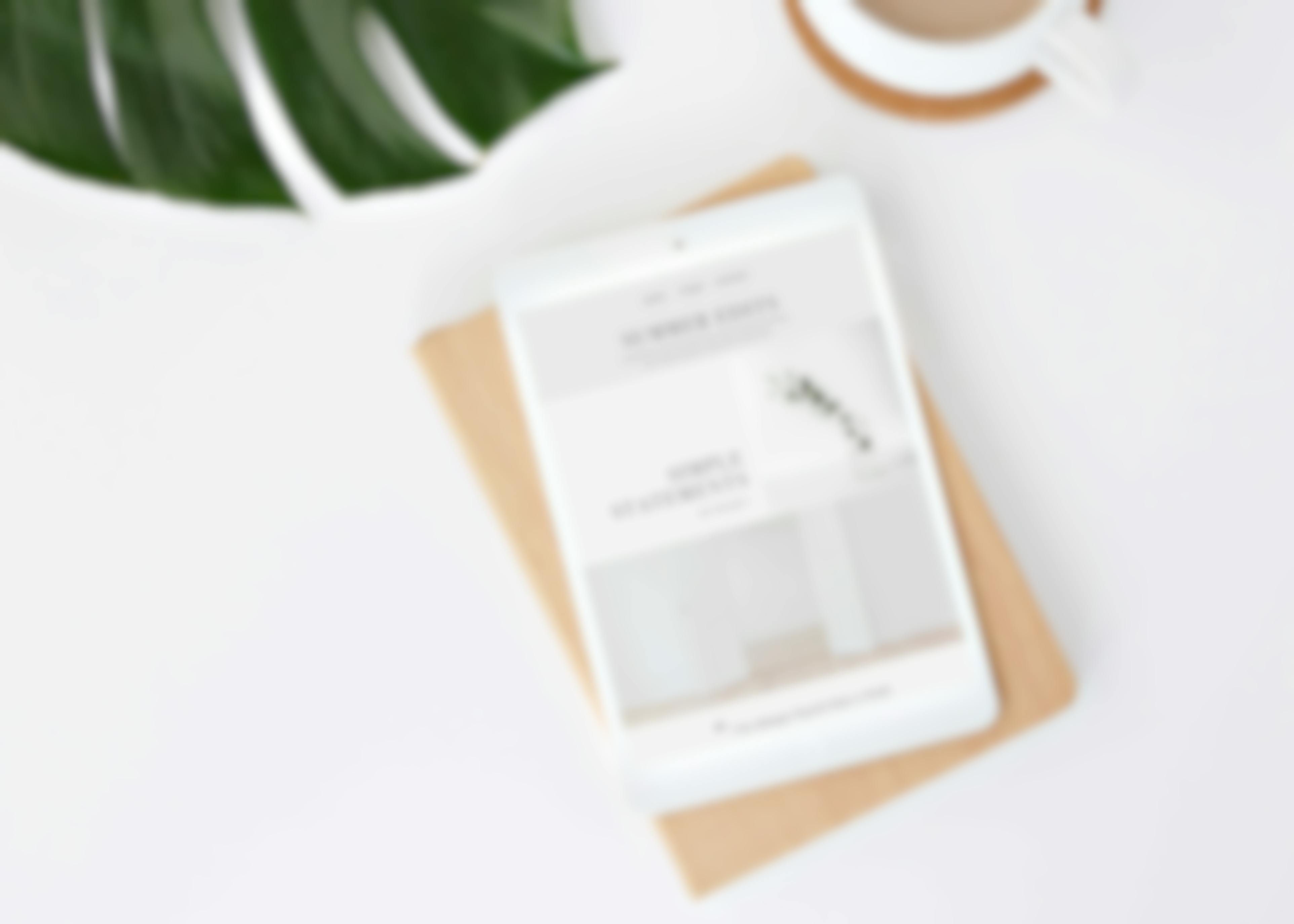 How many times have you deleted that email from your local craft store before opening it one day and pouncing on that sale? If you're an interior designer or run an interior design shop, you should be email marketing.
If you're an interior designer or run an interior design shop, you should be email marketing. With email marketing, your audience has already expressed interest in your product. They are a captive audience. Do some people mass delete emails? Sure! But they see your name in their inbox each time they do it. And when you email at the right time, with the right content, it gives your audience a chance to connect with you on their own terms. How many times have you deleted that email from your local craft store before opening it one day and pouncing on that sale?
Your Guide to Email Marketing for Interior Designers
In this article, we will cover:
Lead Capture
Email Segmentation
Template Design
Marketing Automation
Content Selection
General Guidelines for Success
Lead Capture for Interior Design Email Marketing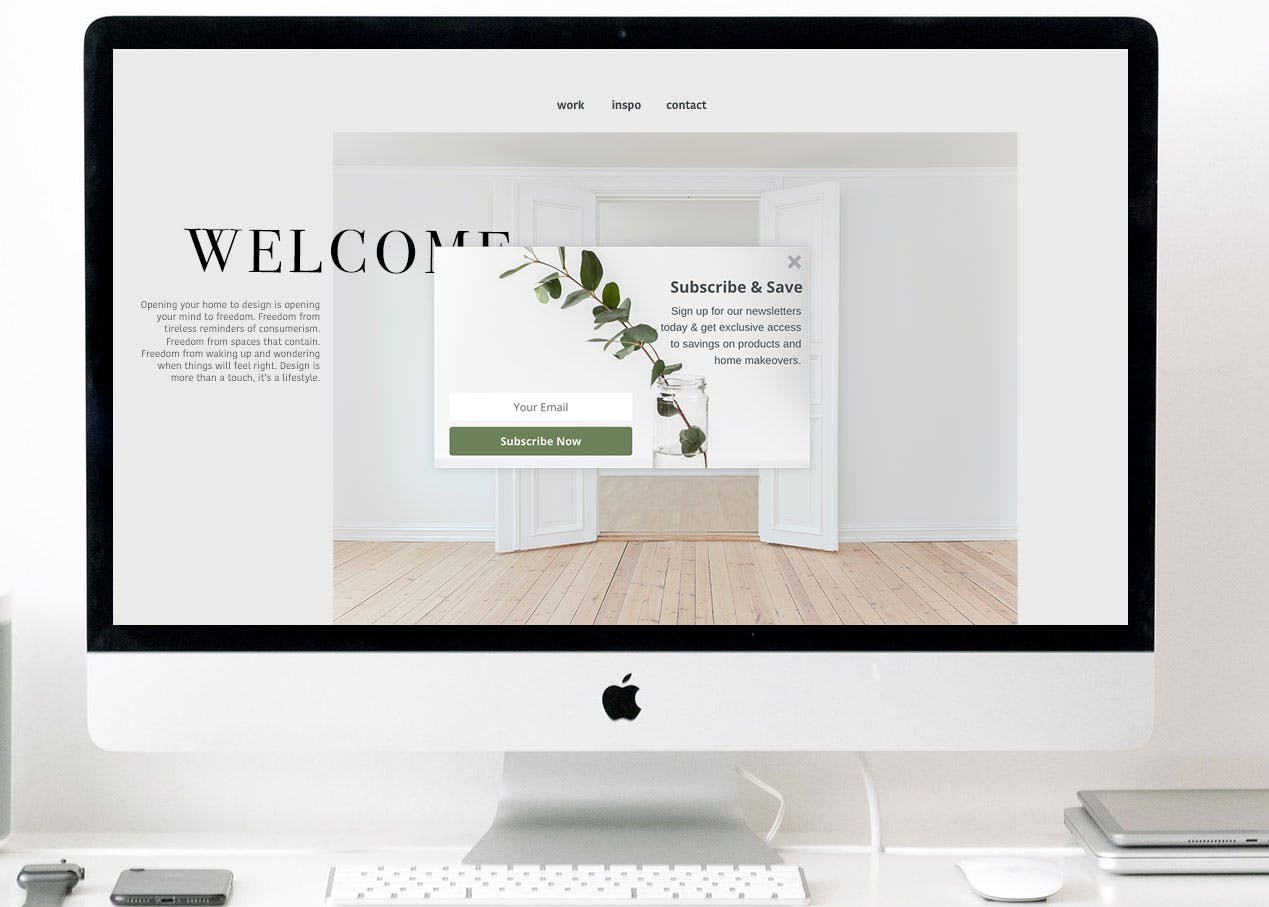 Email marketing is the easy bit - the hard part is figuring out how to grow your list. While website popups may feel tacky or annoying to some, the truth is that they convert above and beyond sign-up forms in the header or footer of your site.
How to do a popup right
Add Value: if you add value to that popup (such as a free consultation or a free ebook), your email signup conversions will increase even more.
Fire it at the right time: if you are going to use a popup, you need to ensure you are not being a nuisance to your customer. Advanced pop-up tools allow you only to fire a pop-up when users have taken specific actions. For example, you choose only to fire a popup when a user is about to leave your site (this is called an exit-intent popup).
Use the correct type of popup: on mobile, you can use a standard popup. On desktop, you'll want to use an online form or a popup and stick to the top/bottom of the screen instead of taking up the whole screen. Why? Because Google does not like large, intrusive popups on mobile.
Test: be sure to add proper tracking on your popup so you can understand how many users are seeing the popup and how many are converting. Looking at page data in Google Analytics will also help you know if your popups hurt your user's experience. Track the session duration and bounce rate of pages where popups are firing.
Email Segmentation for Interior Design Email Marketing
What do we dislike more than a full inbox? A full inbox of things that don't relate to our interests. The great thing about lead capture is that you can send users to different email lists based on their interests. Consider the content on your website and your services to define your email segmentation. If you serve both corporations and homeowners, you may want to segment those two groups. You would create two email lists - "corporations" and "homeowners." Then you would serve two different pop-ups on your website. The corporation's pop-up would fire on your corporate portfolio page, and the homeowner's pop-up would fire on your homeowner's portfolio page. Now that you have two lists, you can send emails that each audience would most enjoy, instead of bombarding them with irrelevant content.
Template Design for Interior Design Email Marketing
As a designer, everything you do is a representation of your work. While modern email tools provide drag and drop interfaces, they often don't provide the aesthetic you need to market yourself appropriately. Stunning templates start with a custom design and are developed in HTML. This gives you much more control over design and gives your user a unique experience.
Marketing Automation for Interior Designers
The path to conversion for interior design services isn't the same as purchasing a pair of new shoes. Your audience needs to dream, think, mull over budget and finally convert. Once someone expresses interest in your brand, you need to keep them engaged. But that can be a lot of work. Marketing automation, especially email marketing, will help nurture and engage your audience while you sit back and wait for the right time to close the deal.
Which two types of marketing automation should you be engaging in, at a minimum? Welcome emails and drip campaigns. Once a user signs up for your emails, they should get a welcome email with an offer for a free consultation. Based on their interaction with the welcome email, a drip campaign should be triggered. A drip campaign is a series of emails meant to keep a user engaged across a set time amount, where specific emails are triggered based on the user's interaction with past emails.
Content Selection for Interior Design Emails
Besides marketing automation, you should send out regular promotional emails to get your clientele excited about your work and position yourself as the industry expert. While the content you include in these will be unique based on your target demographic, here are a few ideas:
Project releases: ask your clients if you can feature your latest works in your upcoming emails. Include a few teaser photos in your email and a link to your site for the full look book.
DIY: we all love a project we can do ourselves for half the cost. Don't give away the secrets to your entire business, but give your readers some good nuggets here and there. This will build trust, and with trust comes business.
Trends: position yourself as the expert by being the first to tell your audience about new trends in the industry.
Guidelines for Successful Interior Design Email Marketing
You can't break the rules if you don't know them.
Here are some general guidelines for successful emails:
Always try to link back to your site: if you feature a DIY article, it should be a link to a DIY blog on your site or something on your social channels. Linking to other company's websites will not help you - it may even hurt you.
Add value: no one wants another piece of junk in their inbox. What value are you providing your readers? Are you giving them free advice? Are you inspiring them with examples of what celebrities are currently doing?
Be authentic: no one wants to feel like they are being talked down to. How can you connect with your audience on their level? Avoid using terms they may not understand. Make them feel like interior design is within reach for them!
Let Us Handle Your Email Marketing
You design, we email. You're too busy to be worrying about email marketing. Let the experts at ThoughtLab handle it. Sign up for a free consultation now. Plus, sign up for more interior design marketing resources with our email newsletter.
Tell us where you want to be. We'll help you get there.
Contact us to schedule a free consultation. We are truly stoked to help your business grow in 2022.