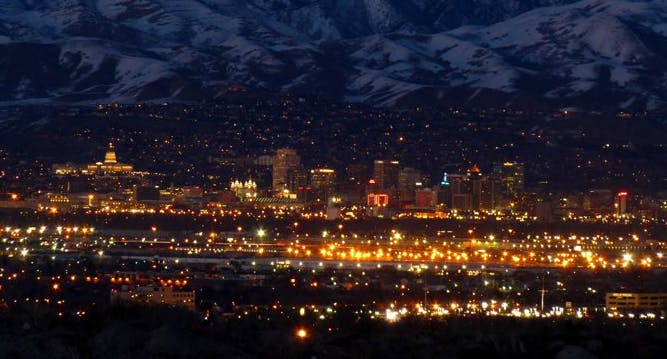 Salt Lake City and its sister cities, Ogden to the North and Provo to the South, have become something of a Silicon Slopes (get your mind out of the gutter) in the last five years. Strangely enough the boom didn't happen through Utah expanding its private spending in the technology sector (although we did pass the USTAR Initiative), but really was primarily driven by technology, infrastructure and resource cuts almost everywhere else in the country. While many startups and even established companies found themselves reeling from the economic crisis during The Great Recession, Utah came out mostly unscathed, weathering the downturn (much) better than most. In fact, Utah has remained in many top ten lists for starting a new business venture--be it in technology or otherwise.
The ability for Utah to churn out skilled and affordable young workers with technology related degrees, a reliable economy that can handle market downturns and a resilient resort industry with some of the world's best winter sports activities has made Salt Lake City something of a current buzz word in the ever changing tech landscape. This, along with close proximity to an international airport, relatively traffic free freeways, cheap land and super cheap energy has finally gotten (many) CEO's attention.
Really the only single downside for many CEO's to Utah operation is a two hour plane ride from tech centers in LA and of course San Francisco, but the trade-off is almost too tempting to ignore: cheaper labor, cheaper housing, a plentiful and eager work force, and overall affordability. Just look at the explosion of hiring in technology related jobs across the Wasatch Front. To give readers and idea of what really is going on in technology related businesses and start-ups in the valley check out this current list of tech related companies that have a presence here in Utah.
Just for example, Utah has: <br /> Adobe, Lehi, UT <br /> AtTask, Lehi, UT <br /> Ancestry.com, Salt Lake City, UT <br /> Backcountry.com Inc. Park City, UT <br /> EA Games, Salt Lake City, UT <br /> Ebay, Draper, UT <br /> Domo Technologies, Inc., American Fork, UT <br /> IM Flash Technologies, Lehi Utah <br /> Omniture (sold to Adobe), Provo, UT <br /> ThoughtLab;) Salt Lake City, UT <br /> Vivant, Provo, UT <br /> ZAGG, Salt Lake City, UT
Utah is still struggling to keep up with demand, but every year more and more young professionally trained programmers, engineers, designers, and artists enter the workforce. In Salt Lake City alone we boast several technical schools, some even offering condensed classes to offer bachelor's in computer science in just two years. In fact, in Utah we have one of the best trained young work forces in the entire country which has helped the local economy. Here's a look at some of the state's top technology related educational institutions.
Neumont University, Salt Lake City, UT <br /> University of Utah, Salt Lake City, UT <br /> Broadview University, Layton, West Jordan, Orem, Salt Lake City, UT <br /> ITT Tech, Murray, UT <br /> Brigham Young University, Provo, UT <br /> Utah Valley University, Provo, UT
ThoughtLab is proud to say that we employ several people from local universities including: Neumont, BYU, UVU, and the University of Utah. We're excited to see where this trend will lead Utah, and are cautiously optimistic that the technology boom in Utah will continue to gain steam. That might even make it easier to fill the 5 new opportunities that have been created here at ThoughtLab in the last 2 months!