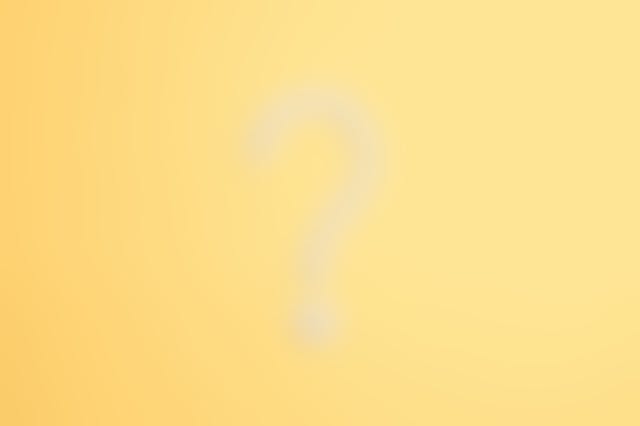 All the answers to the the most common marketing questions about Facebook, specifically pertaining to business pages.
 Facebook has come a long way from its initial launch in 2004. What started out as an online platform to connect with friends, share unnecessary statuses about what you were having for lunch, and waiting until midnight to write a semi-heartfelt happy birthday post on your best friend's wall has now become one of the top platforms for businesses to effectively reach their consumers. 
To someone who's new to the game, or even someone who has a few years of social media experience under their belt, navigating through Facebook can at times be kind of a nightmare. There are a lot of different facets to the social powerhouse, and with their ever-changing guidelines, and constant interface updates, it can be hard to keep up. 
So, all this being said here are some of the most common marketing questions about Facebook, specifically pertaining to business pages.
What's the difference between a Facebook personal page, business page, and group?
Personal page
Your personal page is exactly as it sounds - personal. This is the page you make if you're just signing up to use Facebook to connect with friends and post personal content about your day-to-day. However, you DO need a personal Facebook account to set up a Business Page.
Business page
A business page is a public Facebook profile page that can be used to promote your business and products through organic and paid posts. Interested users can follow your page to see your updates and engage with your brand.
Facebook group
Facebook groups are essentially communities of users with a core common interest. For example, if you recently moved to a new area and you want to meet new people and get outdoors, you can search and join a local hiking Facebook group.
How do I setup a Facebook business page?
Make a personal Facebook account (if you do not already have one)
Get started by clicking "create page"
Select "business or brand"
Name your page and select a category. Typically this is your business name and the industry that best represents your business 
Upload a profile photo and cover page image
Click "edit page info" and enter in the following business details: <br />- Business description <br />- Contact information <br />- Business location <br />- Hours of operation <br />- Product offered
Create a page username. This is how people will search and tag you, so ideally it should be your business name
How do I setup page roles for my Facebook business page?
If you have other people that will be helping manage your business page, you will need to assign them a page role so that they have access to the back end of your business page. This can be done underneath the "page roles" section of your page settings.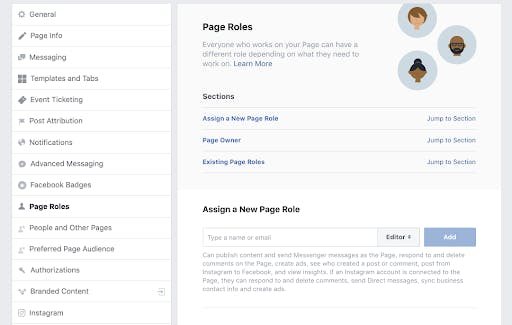 To assign a page role, the user must have an existing Facebook profile. They can be searched by name or email address under the "Assign New Role" portion of the page. Depending on how much access and control you want them to have you can assign the following roles: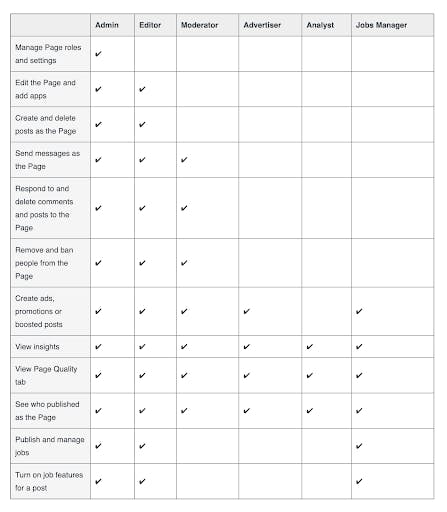 You also have the option to create custom parameters as well. Once you have selected their role and sent the request, they must accept it to gain access. 
How do I change my Facebook business page name and username?
If you want to change your business page name or user name head to the about section of your page. Underneath "General" you will see the option to edit your page name and user name.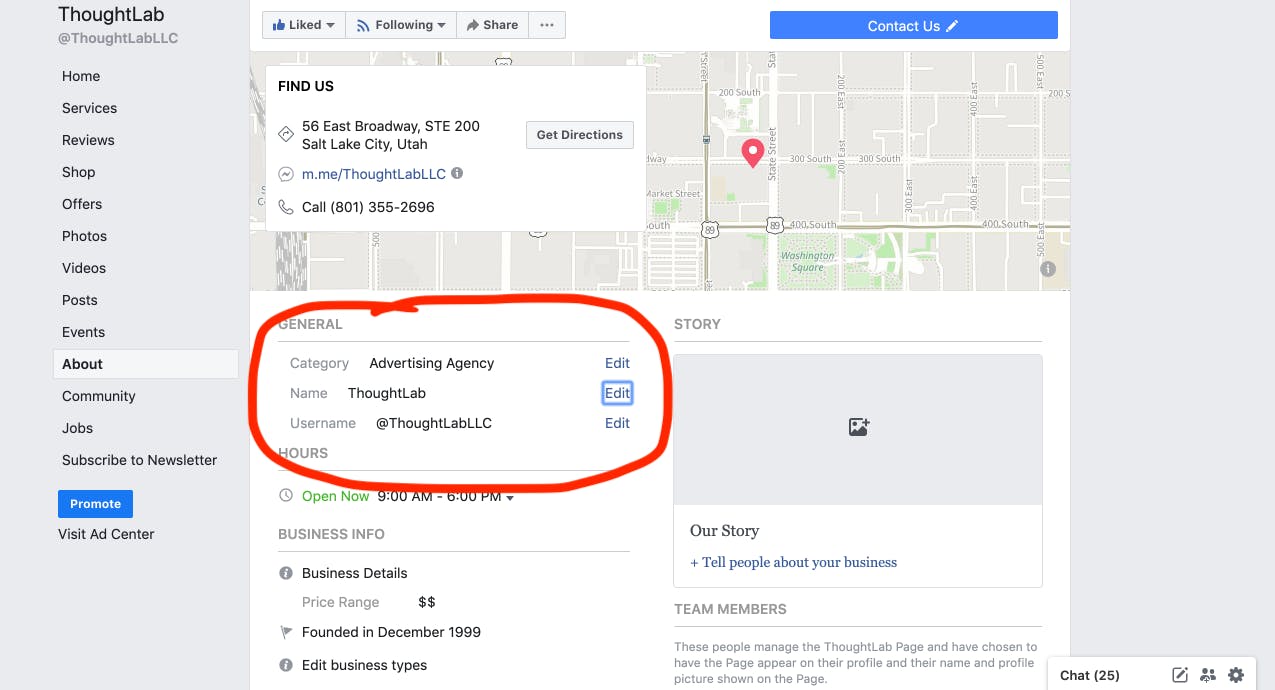 How do I merge two Facebook business pages?
Mistakes happen. If you have two separate pages for the same business, there is a way to merge them into one. Before you can do this make sure that:
You have admin access on both pages
Both pages have similar names and represent the same business
Both pages have the same address
Any campaigns that you are currently running are linked to the page you are not deleting
Once you're ready for the merge head to facebook.com/pages/merge. Select the two pages you want to merge, continue, and then click "request merge".
What is my response rate on Facebook and why does it matter?
Your response rate is a measure of how quickly and consistently you respond to the messages your business page receives. The better faster response time you have to all messages coming through, the higher your response rate. When your page achieves and maintains a 90% response rate it will receive a high response rate badge - letting users know you will get back to them promptly. 28% of users expect a response from a brand within an hour, so having a high response rate is important from both customer service and brand image standpoint.
How do I connect my Instagram account to my Facebook account?
Connecting your Instagram account to Facebook is a great way to streamline cross channel posting. Here's what you need to do:
Ensure that your Instagram page is a business account .If it's not you can convert it to one.
Go to "settings" on your Facebook business page
Select the "Instagram" tab on the left-hand side of the page
Click "connect account" and enter in your login credentials, then click "login"
How do I remove comments on Facebook?
To remove, hide, or delete a comment from one of your posts hover your mouse over the comment and wait for "..." to appear on the right-hand side of the comment. Click here to select the action you want to take.
How do I ban someone from my Facebook business page?
If you have someone who is constantly publishing spam onto your business page, it might be time to whip out the good ol' ban.
Go to "settings" on the top right-hand side of your business page
Select the "people and other pages" section on the left-hand column
Search the name of the user that you want to ban
Select the check box next to their name
Click the settings wheel next to the search box and select "ban from page"
Click "confirm"
Can I see who "checks in" to my business on Facebook?
Go to your notifications page and look for this section on the left-hand side. Click on "Activity" here you will be able to look through all reviews, check-ins, mention, and shares.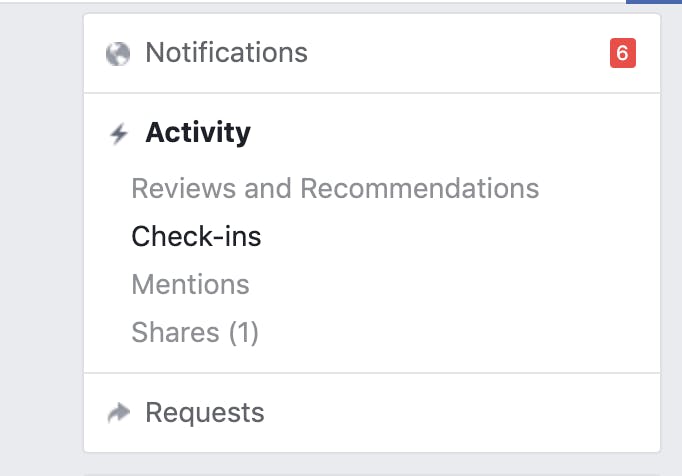 What does everything in Facebook Insights mean?
Insights help you see how your business page is performing. It's important to keep track so that you can optimize your content for better performance. Unfortunately, Facebook's analytics aren't very customizable, but they still give a solid insight.
Actions on page
The number of clicks your page's contact info and call to action button has received.
Page views
The number of times a page's profile has been viewed.
Page previews
The number of times people hovered over your page name or profile picture to see a preview of your page content. 
Page likes
The number of new people who have liked your page. 
Post reach
The number of people who have seen any of your posts at least once.
Post engagement
The number of times people engaged with your posts through reactions, comments, clicks, and shares. 
Videos
The number of times your page's videos played for at least 3 seconds.
Page followers
The number of new people who have followed your page.
The Takeaway
Facebook's ever-changing landscape can be hard to keep up with, but it's important that you do. The easiest way to do this is to hear it straight from the horse's mouth through Facebook for Business News. Tune in next month for Part two where we dive into Facebook advertisements.