As the cooler month of October rolls into its full resplendent glory here in Utah thoughts out of our web design agency can tend to drift to the less mentally arduous activities that are abuzz on the social, web and live wires. From intra office fantasy football domination, Utah football's sophomore run through Pac-12(ouch!), the impending exciting new look Jazz team and the surprisingly fun, continued development of the nationally recognized "cottage haunted house industry" here in Salt Lake there is a lot to distract even us, a usually highly focused team, from our true passion of designing award winning websites and applications. The solution to this focus problem for the ThoughtLab team could not be easily remedied, but luckily was discovered in something accompanying that which spawned its creation. Yes, October has a lot of football, but along with football usually comes some good barbeque which led to executive decision TL # 431: October performance incentive rewards of smoked meat. Awesome.
In order to fulfill (no pun intended) our team and keep them fully focused, no ordinary barbeque would do. No, what we needed was back breaking due-diligence and analysis; analysis by the ThoughLab executive team of seasoned barbeque eaters(in our own minds) to provide a best dish by case scenario plan from the Salt Lake (and Ogden) valley smokehouses. We traveled far and wide visiting many different barbeque joints, shacks and restaurants, sampling ribs, brisket (sliced and chopped), pulled pork, chicken, sausage (polish, spicy and lamb) and a wide variety of "sides". What follows in this post is a summary of this smoke induced finger dripping analysis, team recommendation meat rewards and best dishes by establishment.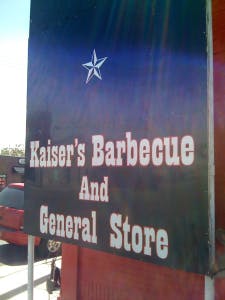 At Kasier's Barbeque, located at 962 South and 300 West in downtown Salt Lake, the first thing you will notice is the oddball location. Tucked into a sort of no-man's land full of vacant buildings and a freeway overpass on the West side of 300 West is a converted ramshackle abode that not only sells real Texas barbeque but a rather odd variety of knick knacks and oddities (plates, kitchen items, etc.) The second thing that you will notice is the wonderful smell. 'You should probably stay because of this smell' was a thought that came to mind. We are glad we did. Not only did Kasier's end up taking home top dish honors for the now legendary smoked prime rib (low and slow!) but also served up an amazing variety of smoked goodness. The beef brisket in particular is another must try when you visit Kasier's and their sides are good if a bit plain Jane. At Kasier's all meals are served in the traditional Texas style with white bread, pickles, onions and sauce on the side. The smoked chicken, which is available only on Thursday and Friday, is also is insanely good, as are two varieties of homemade smoked ring sausage (regular or spicy). If you have not tried Kasier's you are missing Salt Lake's only true Texas style barbeque and while it may not stand up to a Kruez or even Smitty's (of Lockhart, Texas BBQ lore) we here in Salt Lake are lucky to have them.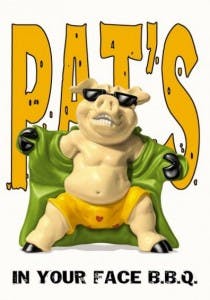 For those in the know Pat's, located in an out of the way alley at 155 West Commonwealth Avenue in Salt Lake City, has been a local Salt Lake barbeque institution for years now having been featured on TV shows and many publications. At Pat's they specialize in award winning competition style barbeque and they do not disappoint. Everything on the menu at Pat's that we tried was either good or great and our award winning sandwich, the burnt ends scores a solid 9.0 on the last meal I must have before death scale (my 1-10 scale for easily answering the eternal question: what would your last meal wish be?!). Burnt ends are the trimmings from the brisket bark (the outer crust) that Pat then re-seasons and re-smokes for another few hours—the result is an almost crunchy beef brisket with further smokification of the succulent fatty beef trimmings. Pat's is also a great atmosphere to bring a crowd as they have live music on Friday and Saturday available in "Howie's Hall" a back section of the restaurant. Be warned of these nights however, because they can lead to long waits for BBQ and the burnt ends go faster than anything else!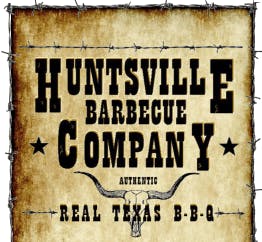 If you, your team or your family do something that deserves a special reward we have to recommend that you take the short drive up to Huntsville, Utah. Located in historic Huntsville Square in a converted cottage house at 235 South and 7400 East you will find the Huntsville Barbeque Company and you will be rewarded for your journey. At Huntsville they do award winning quality Texas style barbeque- really the best in the state, for a fraction of what you would pay in the city. The brisket is dry rubbed with a house blend rub, slow smoked for over 12 hours and is juicy, smoky and delicious. Same for the pork loin, something offered at few barbeque shops, lightly seasoned, slow smoked and slow melt in your mouth delicious. The pulled pork was also stellar; a bit crunchy, sweet, spicy and served low country style on a bun with pickles and onions. Seemingly everything that we tried at Huntsville was incredible and would beat most barbeque that this writer has had in Texas, North Carolina or Memphis but what really sets Huntsville apart is their attention to detail. The restaurant was meticulously clean, the staff extremely nice and the brand well presented (ok- the website could use some work) Even the sides were phenomenal with items like homemade broccoli slaw, Texas creamed corn served with red peppers and the best potato salad- ever; you also do not want to miss the Texas sized desserts such as peach cobbler, pecan pie or my favorite the banana pudding. If you haven't been to Huntsville stop what you are doing and go—in a word its smoketacular!