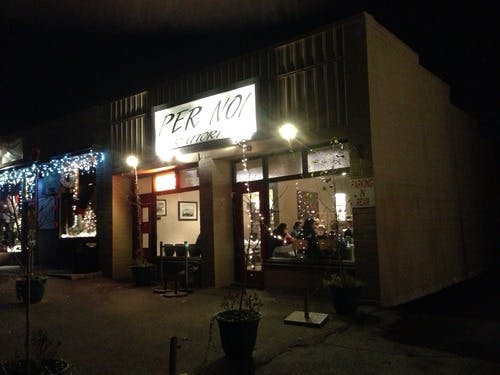 The holidays in the city are in full blown effect with the lights twinkling everywhere, shoppers converging on the Mormon mall megaplex, the MoCo (that's Mormon tabernacle choir to all the non-hipster LDS) singing merrily and a seemingly more and more characteristic absence of snow (didn't it actually used to snow in this city?). Of course, the holidays mean lots of big dinners for family, friends, coworkers and associates. Here at ThoughtLab we tend to enjoy this time of year, taking time for a welcome respite from the endless list of deadlines, deliverables and client expectations that come from being top notch Utah web designers. Luckily, I was able to pull from my highly guarded list of gastronomic intelligence sources to identify an excellent new establishment for the team here to dine, collaborate and enjoy a little team building time. This new restaurant is most definitely worth a visit- especially for those of you that enjoy classic Italian fare.
The restaurant is called Per Noi (Italian "for us") and is located in an out of the way location on 1588 East Stratford Avenue in Salt Lake City. The restaurants proprietor, an affable gentleman named Francesco Montino, hails from Naples originally and the food served at this establishment is an excellent representation of Southern Italian food. Appetizers such as Arancini, a large ball of expertly prepared risotto stuffed with veal lightly flowered and deep fried; arrived at the table piping hot with a great balance of flavor and texture. Generally, I am not a huge fan of eggplant but the appetizer version served at Per Noi of eggplant parmigiana was stupendous. Served with thinly sliced eggplant, fresh mozzarella, a slightly zippy tomato sauce and then baked until slightly crunchy- a must try. Also, the rolatini di spinaci; served with house made pasta encompassing sautéed spinach , mozzarella and just the right amount of parmigiana reggiano and garlic was deemed by all at our table to be delicious. The one appetizer we did not try, the calamari, also flew out of the tiny kitchen looking expertly prepared and worth a try on a return visit that will surely come soon.
On to the main courses our team ordered most everything on the menu as it all sounded and smelled delicisoso! The pollo dishes served at Per Noi were wonderful. The chicken was obviously prepared the right way- pan seared and finished to juicy perfection in the oven; topped with a choice of marsala, piccata, parmigiana or my favorite- the puttanesca. The puttanesca, in particular, was amazing; a spicy marinara with shallots, kalmata olives, anchovies and just the right amount of garlic- added at the end to avoid the bitterness. A simple grilled salmon dish served with the fall veggie sauté was delivered just right, lightly grilled with a light browned butter sauce. My only concern here was the cut of fish could have been better. Overall however, execution of small details was apparent and this is what makes this restaurant really worth the visit.
Pastas served at Per Noi are all house made and you can really taste the difference, as is generally the case with house made pastas. Just the right amount of toothiness and not over cooked. The pasta primavera, which at many other Italian eateries can be such a simple dish that it lacks overall character and punch, was cooked perfectly al dente; combined with a fresh fall veggie sauté and was an excellent rendition- and while never one of my favorite pasta dishes it was one of the best I have had outside of Italy (this dish was mightily devoured by the poor vegetarian souls dining with our team). Lasagna on the other hand is always one of my favorites(at least when properly prepared) and the rendition of this baked delight served at Per Noi was, again you guessed it, excellent. The team and I had an overall really wonderful experience at Per Noi and if you have not had a chance to go you should make time this holiday season to visit. It's truly a great place for family, friends' associates and the like- we will most definitely be returning to try the few items that we have not.