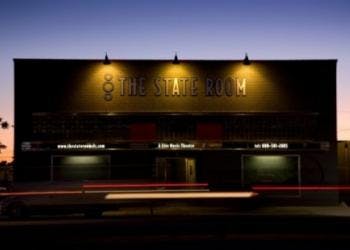 At ThoughtLab we love to program, design and test- all right here in Utah; which is not particularly well known for its' night life.  Being so, we love it when new places open that contribute to making Salt Lake City nights more interesting and enjoyable. Luckily over the last few years several spots have sprung- not only just to life -but to actually hit their strides to make the downtown core more cultural, hip and exciting. The State Room, a live music venue located at 638 South State Street, featuring a diligently curated lineup of talented international acts is one of these places. If you have not been to The State Room then you should go check out their lineup at: http://www.thestateroom.com/calendar , find a show and go. I bet you will have a great time and support an awesome local business at the same time (speaking of which you can check out the ThoughtLab created  concept for crowd sourced concerts at: http://bringthegig.com/salt-lake-city and help to fund the bands that YOU want to see play at the The State Room- think kickstarter for concerts!). Just the other night in fact, some of the ThoughtLab team was able to not only take in a great show at The State Room (see: Toots and the Mytals) but also try out a couple fantastic restaurants located within a block.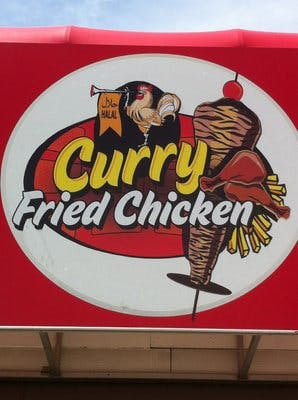 The first, and by far our favorite of these restaurants is the seemingly always outrageously good Curry Fried Chicken located at 660 South State. The restaurant was started by a young woman and her mother about a year ago but has become so popular that the line is often manned by several men now.  The other night when we ate there the restaurant was packed with people each enjoying various piles of the restaurants Indian food with a Pakistani twist.  We have eaten at Curry, as we now call it, many times  this last year and have never gotten anything but excellent food and service. The chicken shwarma wrap is divine- or should I say deva(read:Hindi)- and is a soft pita bread stuffed with a spicy tandoori roasted chicken, a crunchy cucumber, tomato and herb salad and a zippy yogurt sauce; order it with a side of their house made hot sauce and welcome yourself to swaad (Hindi for flavor) town. The aforementioned curry fried chicken (plate or pieces) served at the restaurant is also a sure fired winner (but then most things fried are) served with house made basmati rice, a herb cucumber salad, pita and legumes that are sooooo delicious (what do they put in there to make these things taste so freaking amazing was a common comment).  For myself though, what is truly amazing about this place is that all the sauces: mango, chili, chutney, curry, a spicy green one and a few more are made in house- by the owners Grandma (I know because I asked  how they were so good). We are talking about some serious production too because with how busy and affordable this place is--they serve hundreds of meals a day and each with at least one of their delectable sauces. I recommend trying 2 or 3 of the homemade Indian style samosa, which are deep fried pastry stuffed with potatoes, carrots, peas and sometimes meat, and a side of each and every one of their house made sauces to get a sense of how great these flavors really are.  If you have not been to Curry Fried Chicken, you might want to stop what you are doing (as in now) and go now because I promise it is only a matter of time before this place literally blows up and is forced to raise its prices from pent up demand. Hell, I wouldn't be surprised to see them start franchising the place- I for one would be happy to be their first franchisee just to get my hands on grandmas recipes for those sauces ...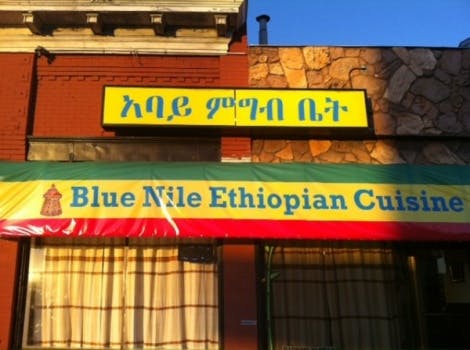 Another good, albeit somewhat of an acquired taste, restaurant that we tried in the same area this week is called the Blue Nile. The Blue Nile is located 755 South State Street and specializes in serving up Ethiopian food to the Salt Lake urbanite hipster community. I have been to the restaurant several times now and have had a somewhat mixed experience with the place, but overall recommend that you make the trip and check it out. Ethiopian food is generally served family style and eaten with your hands; typically all of your food arrives on one large platter and is accompanied with the ubiquitous injera bread. Injera bread is commonplace throughout Ethipoia and is a unleavened bread with an almost sponge like consistency. Such is the case at Blue Nile where you, your family and your friends will all eat with your hands off of large communal plates by scooping bits of proteins and veggies onto (or into) injera bread. While it is not my personal favorite (the bread), I will say it does make and excellent vehicle with which to apply  Awaze tibs and Yebeg tibs to mouth; Awaze tibs being a heavily spiced chopped beef and onion dish and Yebeg being the lamb version.  At Blue Nile they also have several vegetarian dishes including an appetizer called Azifa which is brightly flavored lentils with onions, garlic, jalapeños, olive oil and lemon juice- uber simple, healthy and tasty.  They have a serviceable collard greens dish (Gomen) simmered in a mildly spiced sauce with herbs lemon and a green bean dish called Tegabino Shiro that is probably more fun to say than to eat.  Overall, Blue Nile is a restaurant where it is likely Utahans can find something they will like while at the same time experience some things that they have not had a chance to try before. In my opinion, this makes the restaurant not only a great addition to the city but a contributor to our ever growing culture. Kudos.