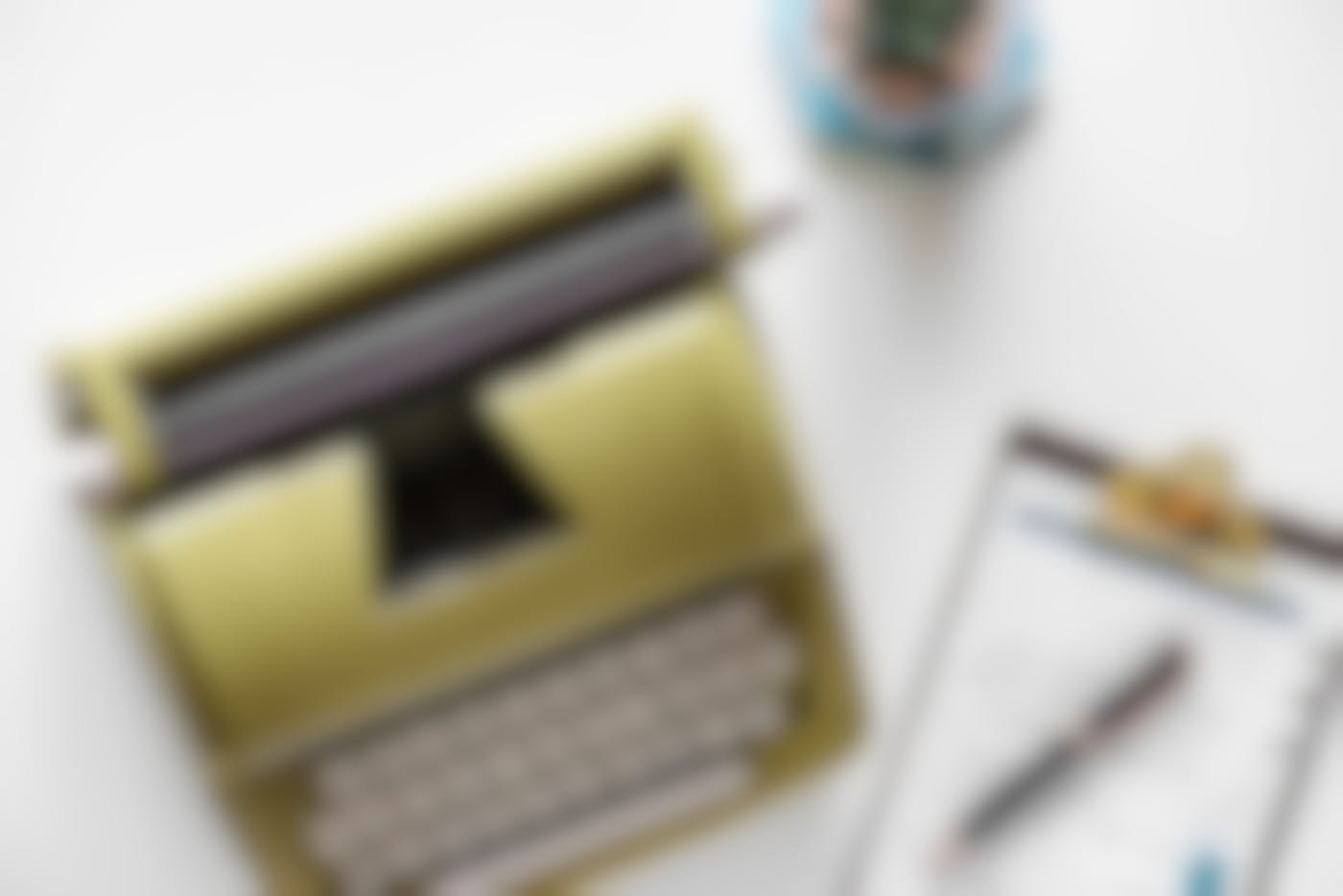 Upgrade your current content marketing and content distribution strategy with Quora, SEMRush and this step by step guide.
Today we are going to rip a page out of our content marketing playbook and show you how to find the best possible opportunities for exposure and organic traffic on Quora. This hack will instantly get your content listed on a page that ranks highly in the Google SERPs (search engine results page) and give you the opportunity to drive traffic to your website.
For those of you that are familiar with Quora, you probably already know that the site gets a massive amount of traffic and has a very dedicated user base. It's not uncommon for a single question to have tens of thousands of views with multiple high-quality answers. For those of you who are unfamiliar with Quora, it is essentially a far superior Yahoo Answers with a much higher level of quality.
In this article, we will show you how to find questions on Quora that rank highly in the Google SERPs for keywords that are relevant to you and are seeing a good amount of organic traffic already. By focusing our hunt on the keyword list you already have we'll ensure that the traffic viewing your content is relevant to your business and has good purchase intent. Solely searching Quora for high traffic pages would deliver a high volume of pageviews, but deliver traffic with much lower purchase intent.
We'll identify the correct pages to target by combining SEMrush and some good ol' fashioned elbow grease. We'll then take the large list of opportunities and sift out the gold dust to find the easy wins.
Using Quora for Content Marketing
Let's jump right in! To get started navigate to SEMrush.com and log into your account. If you don't already have an account with SEMRush you can use this link to get a free trial. Don't forget to set a reminder to cancel your account in 7 days, as it will set you back $99 a month! Ouch!
Step 1: Find Keywords Relevant to Your Content
Log into SEMrush and search for "Quora.com". this will take you to the "Domain Overview" report page. This page provides some high-level information about the domain, all of which is super useful, but we will be focusing on one specific section, the "Top Organic Keywords" report. Click on "Top Organic Keywords" on the bottom left-hand side of your screen.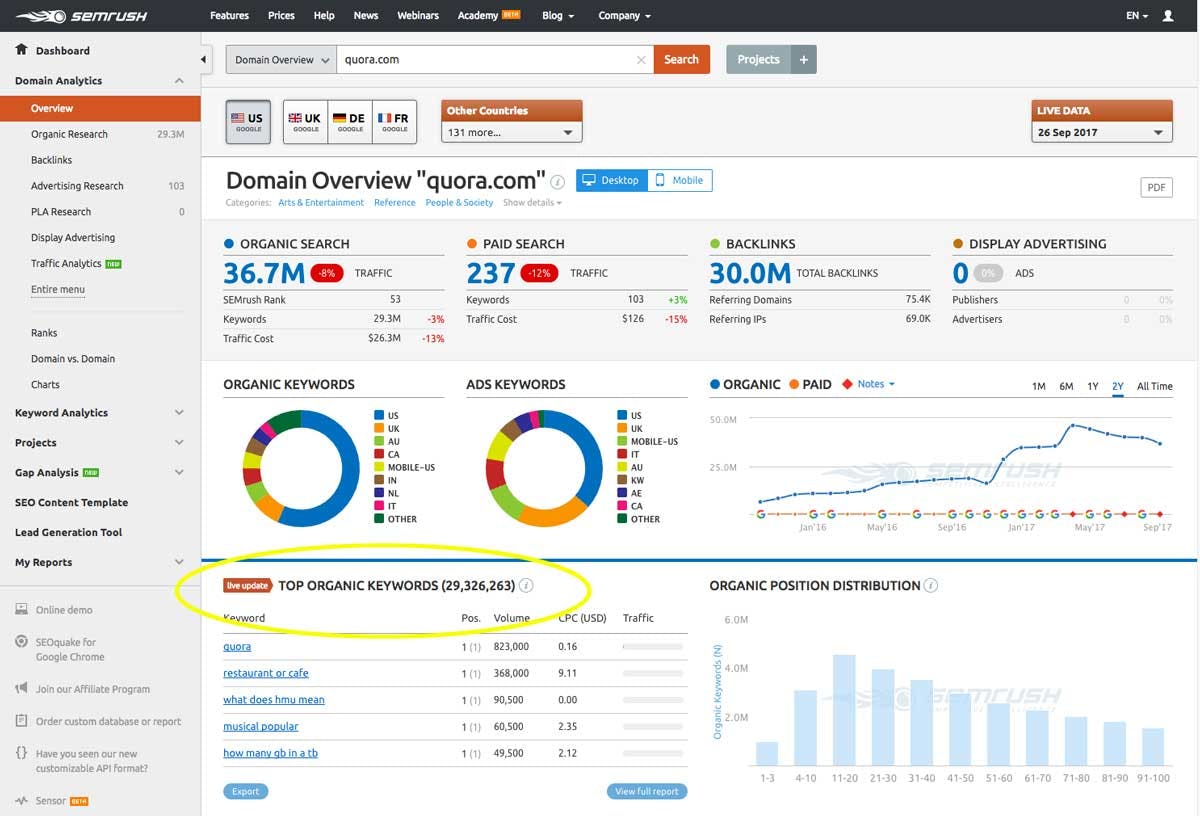 This will bring up all 29 million+ keywords that Quora ranks for. Interesting, but not very useful by itself. Let's dive in a bit deeper and find some keywords that are relevant to us.
We, as a company, have been focusing on increasing our digital marketing clientele lately. This division of the company has grown from a supplemental service we offer, to being one of our core business units. Let's see if we can kick up some keywords related to digital marketing, drive traffic interested in digital marketing.
Choose a keyword from your list and type it into the "Filter by Keyword" search bar and press enter. For this example, we'll choose something broad, yet specific enough to ensure that all the results are relevant to us. We searched for "Bounce Rate" a popular analytics metric used by Marketers when monitoring the efficacy of their website.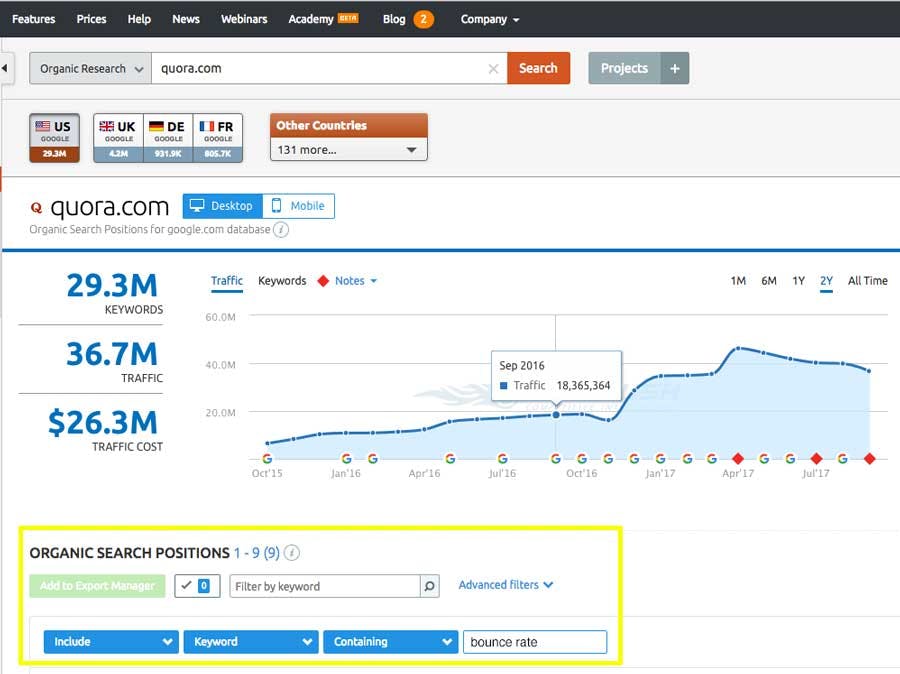 Just like that, we have 200 results! Not bad, but if you're like me you probably don't have enough interns to sift through all those results for you. Let's add a few additional filters to this query and turn this broad list into a few gold nuggets.
Step 2: Add Filters
By using advanced filters we will limit the results list to only show keywords that are ranking on the first page of Google and have a minimum search volume of 100 searches a month. Click the "+ One More" button and add a position filter. The position filter (Pos.) should be set to show results that rank less than 11 in the serps. This will exclude any results that do not show on the first page. While we're adding filters to our list we'll also add a "Volume" filter set to 100. The volume filter will filter out keywords that have less than 100 searches a month. If needed, we can decrease this filter later to get more results.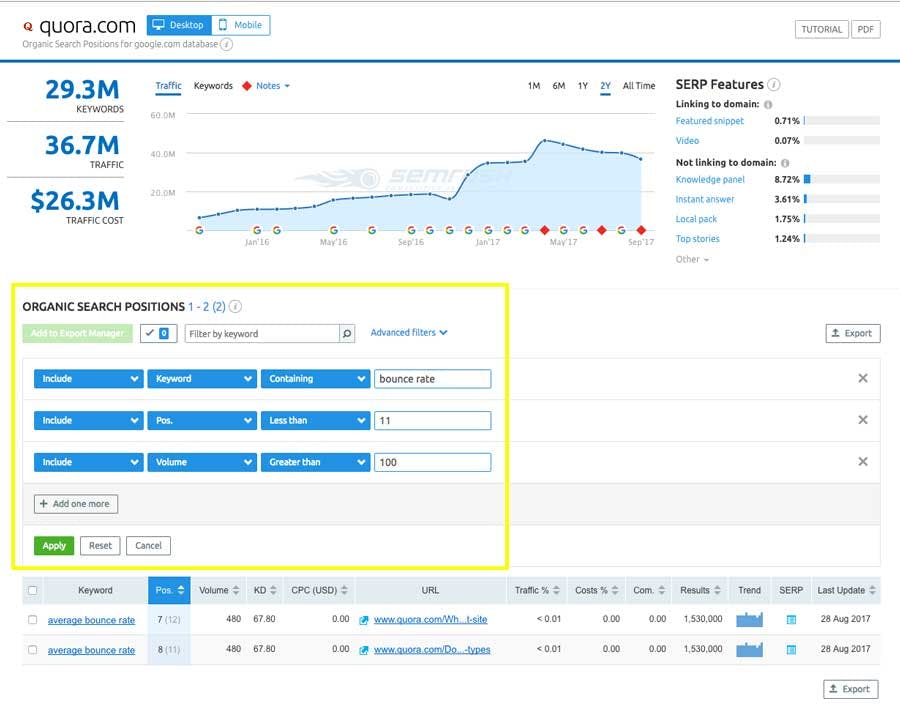 Bada bing, bada boom! There we have it, two pages that show up on the first page of Google for the search phrase "Average Bounce Rate"! The only people who would be searching for information on average bounce rates are somehow involved in the operation of a website, perhaps even people who could use some of our digital marketing services. You can see here that this phrase gets an average monthly search volume of 480 searches. Let's get in front of those 480 pairs of eyeballs!
If you aren't seeing any results at this point, consider exploring broader keywords, or lowering your search volume filter. Additionally, in rare cases, it may be worthwhile to look for opportunities on the second page of results. However, I would only advocate this if the page has recently moved up the serps significantly and is close to being a first page result. For example, a page that is currently ranking 11th for the keyword phrase "Shopify Web Designer" has recently moved up from position number 24! It is likely that this will soon be on the first page and may be worth exploring. You can find the old position by looking in the parenthesis next to the current position, under the "Pos." column. Remember, these days almost no one clicks on results from the second page.

Back to the results at hand. At first blush, both of these pages look to be comparable. Each is asking a question about average bounce rates, both have recently moved up the ranks to the front page, the pair each have about 1700 page views, and the pages contain only a few weak answers, with a max of 1 upvote.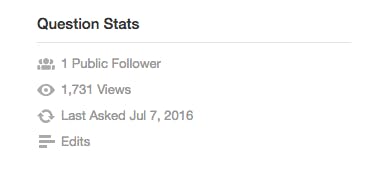 What we have here is an opportunity to own a substantial amount of real estate for this keyword on two pages that have been climbing up the SERPs. We're going to want to take the top spot for both of these, but for this blog, we'll focus on the page occupying the 7th spot "What is the average bounce rate for a content site?" and come back for number 8 later. If you find yourself answering several questions on the same topic make sure that your answers are different and provide enough value to be useful. Do not duplicate your answers!
Here you can see the current top ranked answer.

Here we can see that the current top poster, David, a fellow marketer, has received 1,000 views since he posted his response almost a year ago. I expect those numbers will only increase with the recent move up the serps from the second page to first.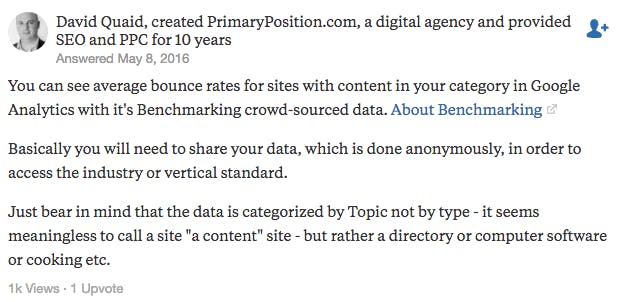 Now David, I don't mean to be rude, but there is no way that answer took longer than 2 minutes to write. The question isn't fully answered and the link to further information requires visitors to give access to their data, no thanks! We're going to write a better answer, an answer that directly addresses the question and we are going to dethrone David of his top spot.
Step 3: Write Your Answer
Begin by crafting the very best answer you can. This isn't an opportunity to swoop in with a half-assed pitch, upvote your own answer and take the top spot. No, that will never last! If you want to take, and most importantly retain, the top answer spot you're going to need to engage your entire ass and provide some real value. It pains me that I even have to say this, but avoid trickery or overly salesy tactics. It is incredibly transparent and your average Quora user will pick up on it in a second.
Long form answers do quite well on Quora, and the platform has so far been generous with space before truncating the results. Stretch your legs out and take advantage of all that real estate, as long as your content is engaging. However, remember that some viewers won't read your answer word for word. Make your content more skim friendly to all readers by using bullet point titles, visual aids and an inverted pyramid writing style.
Before you post your answer make sure that you included a link to your website, as this is the whole point of going through this effort. The link will be a "No-Follow Link" but the traffic generated by your answer should be relevant to the keyword you selected. We highly recommend that you zip over to the Google "Campaign URL Builder" and create a trackable URL for your link. By using trackable URLs you'll be able to see the slow drip of Quora traffic build up over time and be motivated to continue contributing.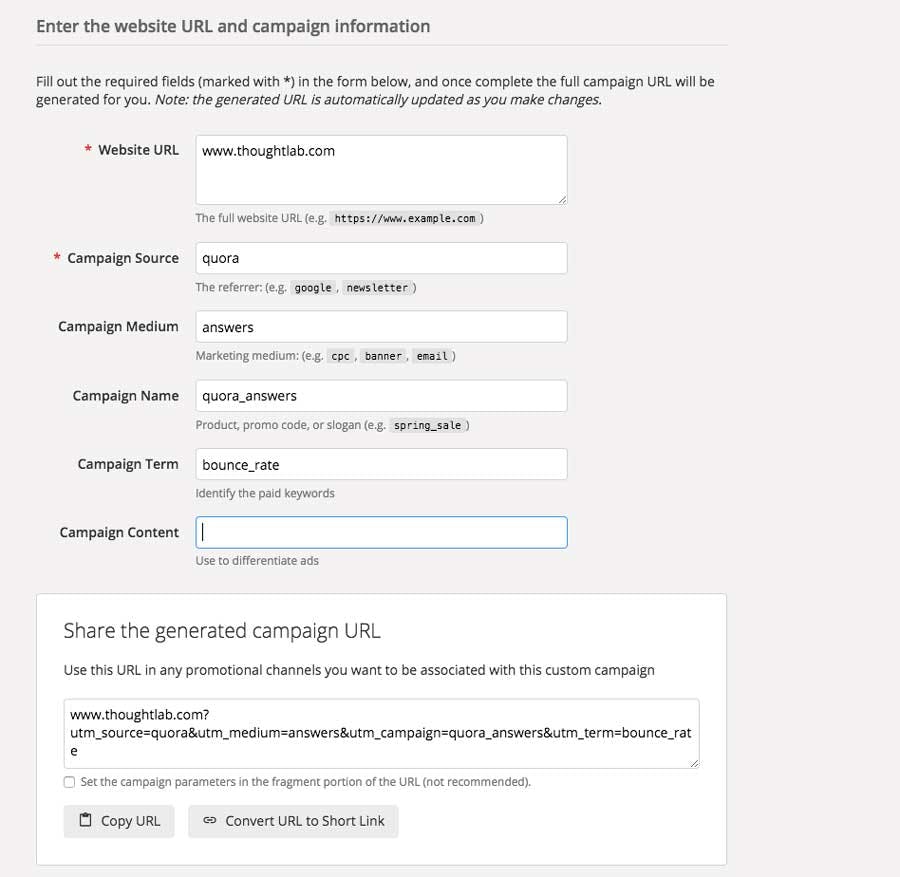 This process is self-explanatory, with only the first two fields being mandatory. We'll be using this link with an anchor tag, so shortening it will not be necessary. Depending on your specific use, consider using the "Convert URL to Short Link" option.
Our Answer
After much blood, sweat, tears, and complaining we finally wrote a piece of content that we believe to be a great answer to this question. Below is the response we used to relieve David of the top answer.
What We Did Right
As you can see, we answered the question promptly, and then went on to provide additional value to those still interested. I, personally, always try to answer succinctly before providing additional detail. I've found that formatting my answers in this way tends to lead to more upvotes.
Quora gives you limited formatting options, but we've taken advantage of the bold feature to make the content as readable and organized as possible. We've also utilized graphics to catch the attention of those scrolling and, of course, used a trackable link.
What We Could Do Better
I'll be the first to admit that this answer isn't perfect, let's review a few of the ways we could improve our response.
1. First of all, our profile is a business profile we created to buy ads on Quora. Because of this we immediately look a little out of place on the platform by having "LLC" in our name, and a logo for our profile picture. Moving forward, it would be best to use a personal profile, with well filled out credentials (the text that appears after your name). David, you beat us on this one.
2. Our link placement was weak. I'll be honest guys, I got a little excited to write this blog and didn't quite lay the foundation I should have. We linked to our Web Design page when, ideally, this answer should have linked to more information about bounce rates. Typically, this hack is part of our content distribution strategy used after writing a blog. We will write on a topic that is fairly niche, and among other avenues, find places on Quora to distribute that content. This answer would have a much better ROI if we had linked to a blog post or resource that is related to bounce rates. Perhaps we will still go back and edit our answer once the blog is written.
3. The graphics we used are not our own. Clearly, the graphics used are from a well-respected study done by Kissmetrics. Not the worst product to be associated with, but there is no incentive for us to be publishing their graphics. A few hours in Photoshop or Illustrator creating some ThoughtLab branded infographics would be ideal, but unfortunately, the ROI wasn't there. Ten minutes for us to get our answer, and 1k views over the next year is worth it. Hours spent creating infographics for 1k views is not. Perhaps if we could reuse the content elsewhere it would be useful, maybe when we write that bounce rate blog!
Dig In for The Long Haul
For our specific industry this is often a tough win. Our fellow tech workers are early adopters and the type of people who spend time on Quora for fun. This makes it tough to stand out from the crowd. However, for some of our customers, it's a gold mine. The same day we answered this question on bounce rates, we identified and answered several questions under our customer's accounts. Each question had tens of thousands of views and only a handful of answers, really easy wins that will provide traffic for years. But remember, this isn't a magic bullet that will drive thousands of potential customers, with fistfuls of dollars to your site. This is a strategy that requires consistent execution over time. Dig in for the long haul.
All in all, time well spent and I look forward to seeing how much traffic our little Quora play brings us. We've decided to make this a permanent portion of our content distribution plan. Moving forward, links for all the blog posts, resources, and tools we create will find a home on Quora.
Hopefully, this tip has helped you navigate the rough waters of the world wide web a little easier. If you found this guide helpful please drop us a line and let us know how it worked for you!