Twitter has started a war between Chick-fil-A and Popeyes over who has the better chicken sandwich and now it has become National news. Welcome to 2019.
Unless you've been living under a geode, you know about the current war in our country. It's not costing the U.S. any military lives or dollars from our war chest but, it is a battle that has captured the minds and spirits of literally millions. I speak of course of the great chicken sandwich war of 2019.
On August 12, 2019, 19th ranked fast food restaurant Popeyes announced a new menu item, a chicken sandwich. The sandwich boasts barrel-cured pickles, a buttery, toasted brioche bun, creamy mayo, and buttermilk battered hand-breaded chicken fillet. It was first received with little hoopla. Popeyes' enthusiasts, of course, liked the sandwich and a lot of chat started to take place about in the world of social media. This initial response was simple, the usual organic chatter. Although there was a lot of it, it still wasn't trending on a national level. And then …
The Tweet Heard Around the World
Chick-fil-A, a larger, more popular fast-food chain that sells itself on the best chicken sandwich around, decided to flex its social media muscles and protect its domain. In response to Popeyes' new item, an obvious imitator, on August 19th, their social media team tweeted out:  "Bun + Chicken + Pickles = all the ❤️ for the original." and that, dear friends, was the proverbial tweet heard round the world. The war was engaged.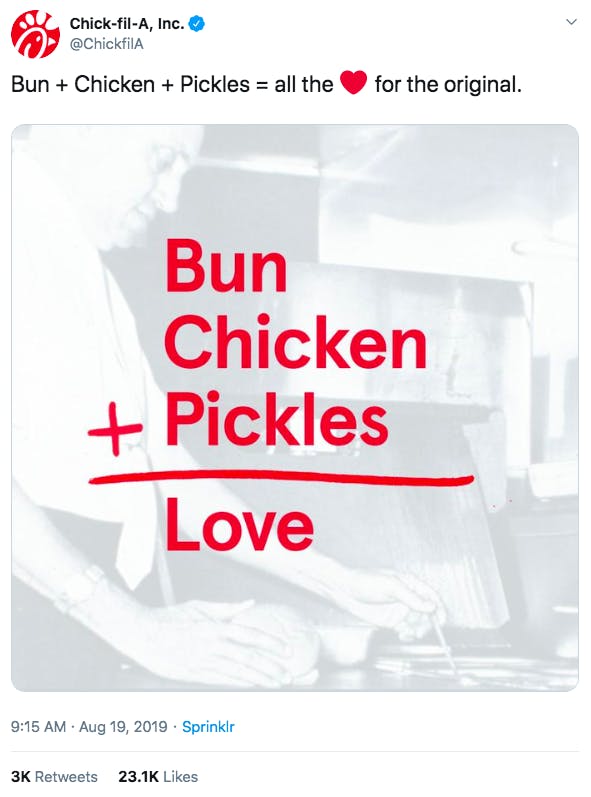 To Which Popeyes Responded...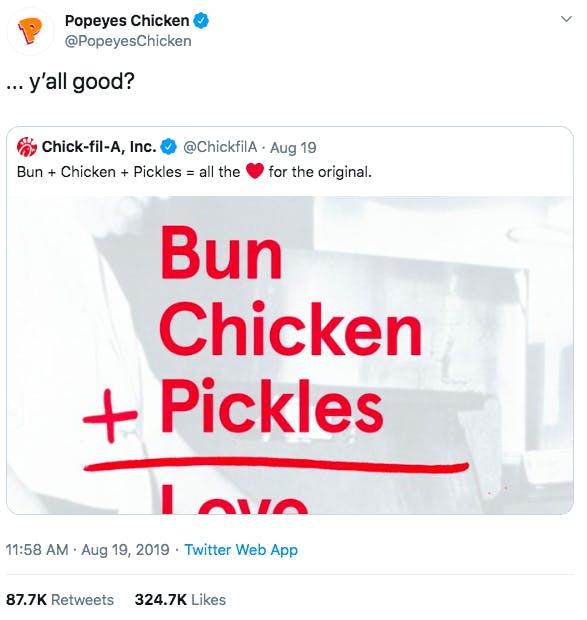 Bruno Cardinali, Popeyes' head of marketing for North America, says the company saw a major boost in organic conversation around the new sandwich and decided; " … We felt it made sense to jump in and participate." Jump in they did. For a time the chicken sandwich war was the top trending topic on Twitter in the U.S. and worldwide.
The Great Chicken Sandwich Shortage
Popeyes trended globally. There were huge sales of the new menu item. Restaurants sold out. Lines were upwards of 45 minutes long making the sandwich harder to get than a seat on Space Mountain. Some of the restaurants discontinued selling the sandwich because long lines at drive-thru windows were causing traffic nightmares and accidents. Google searches for "Popeyes' chicken sandwich" grew 1000% following chick -Fil-A's August 19th tweet, according to Google trends. This war wasn't ending any time soon.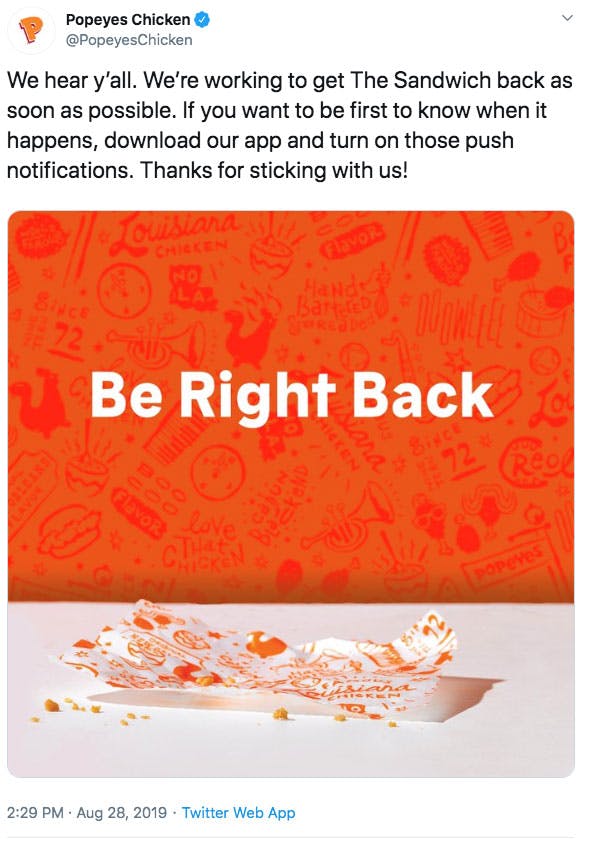 For Popeyes, the facts were stunning: a chicken sandwich going viral, huge sales, and the number 1 trending topic on twitter. They were sitting pretty. But, don't kid yourself, Chick-Fil-A knew exactly what they were doing.
Chick-Fil-A is bigger than Popeyes so giving their lesser competitor a little gas to start the engines of their new sandwich launch really didn't cost them that much. However, by starting this "war" they created a ton of new exposure and free advertising for themselves. 
It's all about mindspace in this kind of situation. Any conversation about which sandwich is better gives Chick-Fil-A more space in people's minds. Due to the fact that Popeyes' chicken sandwich is an imitator, Chick-Fil-A will always have pride of place. Chick-Fil-A is the original, so to speak and so Popeyes will always be playing a game of catch up. With a simple reminder tweet, Chick-Fil-A was able to remind folks who may have forgotten that they are the first, the original, the best and it cost them next to nothing.
Enter Wendy's...
Wendy's and other fast-food joints have jumped into the twitter conversation but none with the savvy of Chick-Fil-A or the guts of Popeyes.

How Brand Loyalty Comes Into Play
There are marketing gurus who say Popeyes has won the social media war and most of that is thanks to loyal fans. Popeyes' brand has a cult following that is willing to go the extra mile or so to get their food. Tonya Davis, Digital Marketing Manager for ThoughtLab in Salt Lake City, becomes visibly excited when she speaks of Popeyes, smiling and dropping her head back as she exclaims; "Oh my God, it's so, so good." people in Salt Lake have to travel all the way out to the airport or to Lehi, a nearly 30 minute drive, to find a Popeyes but, for people like Ms. Davis, it's worth it. Brand loyalty has really stepped up for Popeyes in this war.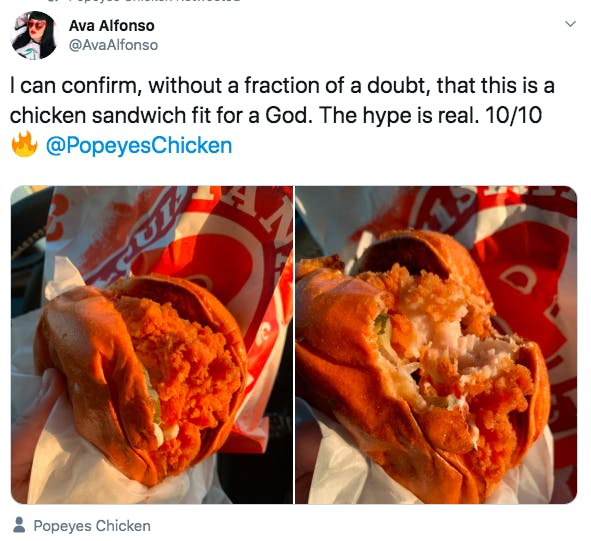 But Who Won?
But was Chick-Fil-A really defeated? Not at all. They are still a larger and more popular brand nationwide and the twitter war has just given them a little more exposure. But, it's done more than that.
Although Chick-Fil-A is popular and their chicken sandwich is the original, the company has been dinged lately due to political affiliations. People who are more politically aware have been reluctant to patronize Chick-Fil-A because of their long-standing, full-throated support of anti-LGBTQ rights. This Twitter war has introduced some new people to Chick-Fil-A and it has given some of the politically correct enough ground cover to excuse their trying a Chick-Fil-A sandwich for comparison.
On the flip side, Popeyes' new chicken sandwich gives the politically conscious foodies a place to get their chicken sandwich needs met.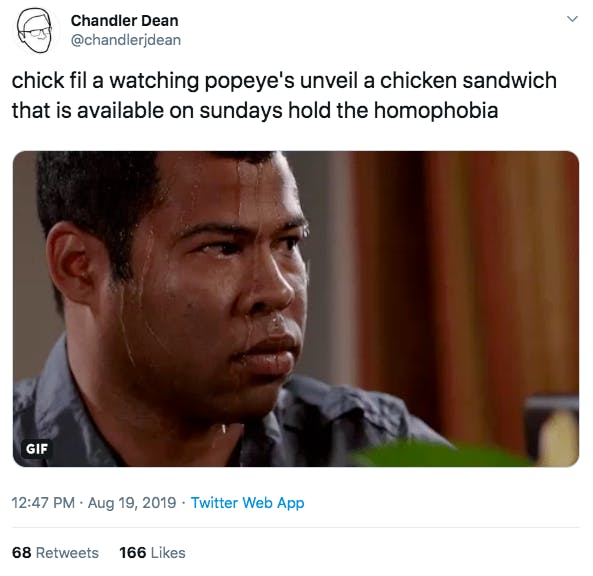 When you stop and think about it, the tweets, the attention, the moniker of war ...it all boils down to a simple, easy to make at home, chicken sandwich.
No one is being killed in this "war", not yet at least. But to say there is a clear winner or a clear loser is to underestimate the power of a brand to come from behind and take the world by storm. Or, the power of a brand to engage in a 'war" and gain new followers. This war really has nothing to due with an item on a fast-food menu and everything to do with brands and how they can be wielded on social media.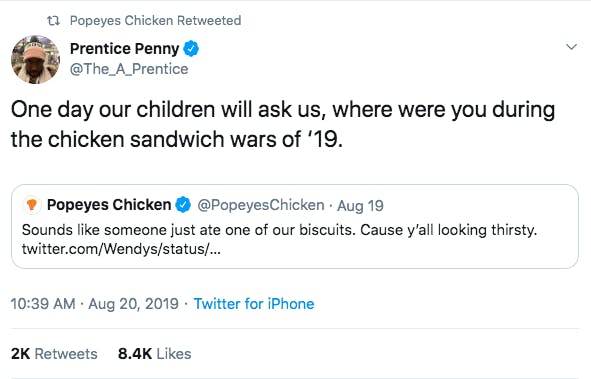 So, if you think your brand is lacking or wondering how it would stand up in a war, maybe it's time for a refresh or at least a re-examination to see if it's carrying all the clout it can. Is your brand connecting to its followers? Would they go to bat for it? Is it strong enough to get new followers?
If this chicken sandwich war shows us anything, it shows us that taking time to build a trustworthy brand now, building a loyal following now, can pay off huge sometime in the future even when you least expect it.